We have listed the best flagship phones of 2019 for you and we will continue to add new ones …
We are slowly leaving 2019 behind. This year was much more ambitious than the others. So we can say that we thought a lot more to list the best flagship phones. Different companies have multiple flagship phones released with different features.
The phones that make up our list have been about the latest flagship phones released in the last few months. Some phones aren't on our list yet. However, you can be sure that we will serve you better by updating our list in the future.
If you're looking for one of the best flagship phones in the Android market and are also an expert user, give Samsung a chance. Because the Galaxy Note 10 Plus comes with some unique features. These high-end features will not disappoint you in any way.
It also supports the S Pen for hand movement and drawing and can be used as a motion controller. It has a 6.8-inch screen and brings the best video quality you can expect in the Android world.
There is also an incredible quad camera set up in the competition. It offers a large 4300 mAh battery that supports reverse wireless charging. The phone is waterproof and has 12 GB of RAM paired with a Snapdragon 855 or an Exynos 9825 chipset depending on the region.
Check Samsung Galaxy Note 10 Plus complete review here!
6.53″
40MP
8GB RAM
4500mAh
HiSilicon Kirin 990
Due to Huawei 's US ban, the Mate 30 Pro has become one of the lowest-rated smartphones on the global market. But in general, the device has great features. First of all, we have never seen such an amazing camera setup on any smartphone.
The Mate 30 Pro is equipped with a quad camera, with not one but two 40-megapixel sensors, OIS and 3x optical zoom.
It even comes with a 32 MP dual camera on the front that supports 3D face authentication.
The Mate 3 Pro is equipped with the Kirin 990 Plus chipset and even features a 5G model. 4500 mAh capacity, 40W fast charging and reverse wireless charging make its battery perfect. It also has a Horizon screen. Thanks to its side touch technology, it leaves the physical keys behind.
Read Complete Review of Mate 3 Pro here
If you need maximum performance, OnePlus has been one of the best options for years and is still going on. OnePlus 7T Pro is one of the flagship phones with the best hardware you can expect in 2019.
It features incredible software optimization as well as the Snapdragon 855 Plus chipset, coupled with 12 GB of RAM and UFS 3.0 storage. It comes out of the box with Android 10.
With QuadHD + resolution, HDR10 + support, Full DCI-P3 coverage, and a 90 Hz refresh rate, it even supports one of the best display panels in the world. The battery is satisfactory with a capacity of 4085 mAh. It features a high-end triple camera set-up with OIS and 3x optical zoom on the back. It isn't as amazing as Mate 30 Pro in the picture quality, but it's still spectacular.
Read Complete Review of OnePlus 7T Pro here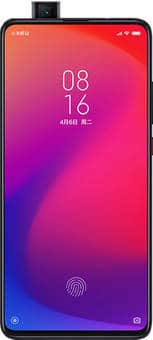 Front (Selfie) Camera 

20 MP

Internal Memory 

64 GB

RAM Capacity 

6 GB RAM

Battery Power 

4000 mAh

Screen Size 

6.39 inches

Camera Resolution 

48 MP + 8 MP

Processor Capacity 

1.8 GHz Dual Core + 2.42 GHz Triple-Core + 1.78 GHz Quad-Core
The Xiaomi Mi 9 Pro is one of the most affordable flagship phones. Only the price tag does not make the phone attractive. Nevertheless, it has superior features such as reverse wireless charging and the fastest 30W power commercial wireless charging technology.
Also, the most powerful Snapdragon 855 Plus chipset currently available by Qualcomm features advanced hardware with 12 GB RAM and 512 GB internal storage.
The phone is even equipped with an HDR10 display with full DCI-P3 coverage and a 4000 mAh battery.
Unfortunately, the rear cameras lack OIS. But the price will allow many people to ignore it.
Check Xiaomi Mi 9 Pro complete review here!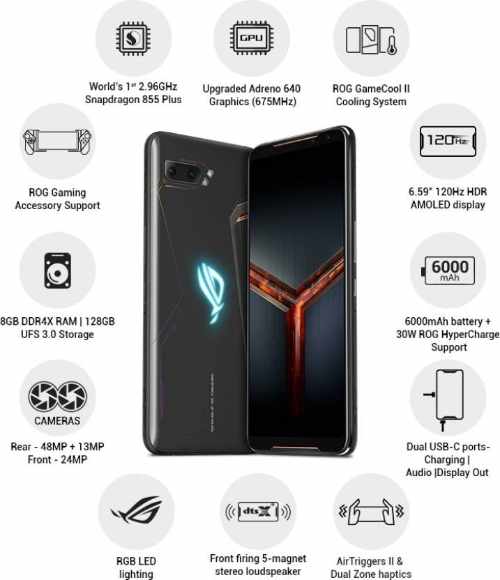 Display 6.59-inch (1080×2340)

Processor2 .6GHz octa-core

Front Camera 24MP

Rear Camera 48MP + 13MP

RAM 8GB

Battery Capacity 6000mAh

OS Android 9 Pie
Asus ROG Phone 2 is one of the most advanced smartphones equipped with features to play the most demanding games in a series. Among the best flagship phones, we can say that it has the best hardware features.
Let's take a look at the features immediately. We have the Snapdragon 855 Plus chipset, the best processor on the market. The chipset matches 12 GB of RAM and 1 TB of internal storage. Even the display is best suited for gamers with a 120 Hz refresh rate and 240 Hz touch.
The ROG Phone 2 features a game-oriented design with an advanced cooling system as well as RGB lights and external accessories.
Moreover, one of the most attractive points is the 6000 mAh battery called mammoth battery.
This means that you don't have to worry about running out of battery power. But unfortunately, it does not support wireless charging.
Check Asus ROG Phone 2 complete review here!
Display 6.50-inch (1080×2400)

Processor Qualcomm Snapdragon 855+

Front Camera 16MP

Rear Camera 64MP + 13MP + 8MP + 2MP

RAM 6GB

Storage 64GB

Battery Capacity 4000mAh

OS Android 9 Pie
At least for the global market, it would not be fair to say that Realme X2 Pro is the flagship killer of the year. It carries a starting price tag of only 399 euros in Europe. Of course, it is home to Qualcomm's best chipset, the Snapdragon 855 Plus chipset.
With 1000 nits, it offers a brilliant display with the highest brightness, support for HDR10 + and a 90 Hz refresh rate.
Currently, in the global market, you will not find any smartphone with such an affordable price and many amazing features. The Realme X2 Pro comes with a 4000 mAh battery that supports 50W fast charging technology.
And there's a quad-camera installation, including a 64 MP sensor.
Check Realme X2 Pro complete review here!