The self-repeating cycle of fashion is on the agenda again in 2020 with retro breezes! The fact that history consists of repetition must also apply to the constant fate of the fashion world. Inspired by the past since the 1960s, designs and products are classified under the name retro in many areas. Although retro is known as the separation of styles that existed in the past, this concept refers to the design that is inspired by the past.
In other words, retro style is the one that do not belong to the present day; fashion, architecture, art and music. The concept of the vintage, which is very close to retro, includes objects and designs produced in previous years.
According to the fashion authorities; the retro current, which emerges with a sense of longing for the past, is caused by dissatisfaction with the present and a sense of self-expression by emulating the past. If you are looking for nostalgia in music, art and lifestyle, you can adapt it to your clothing style and make room for retro pieces in the most valuable corner of your wardrobe. Retro-styled pieces that continue to be popular in 2020 are patchwork designs, cargo pants, frills and snakeskin.
Here are the fashion pieces that will inspire your retro style…
Patched All Over: Patchwork Designs
The patchwork of old times comes to life in the so-called patchwork. This trend, which has been on the rise for a few seasons, is likely to appear in 2020 as well. The patches, which are based on combining old worn clothing with a piece of fabric, are an artistic gathering of unrelated patterns.
The combination of different ethnic fabrics by fashion designers creates remarkable designs. Do not hesitate to invest in your favourite design to adapt in this trend, which you will often come across in jeans, fabric trousers, blazer jackets and coats!
You can add retro elements to your style by completing your oversize patchwork jacket with fairy-tale silhouettes and sophisticated posture with your skinny jeans and boots. Velvet fabric pants dominated by ethnic patterns can be interpreted as an ambitious but also bold style move.
Try using this piece in combination with a plain turtleneck and a cool leather jacket. Patchwork jeans, which are made up of jean fabrics in many different colours, maybe a good choice to add dimension to your clothing!
The comfort of the season: Cargo Pants
Cargo pants, which have a comfortable and sporty atmosphere, are one of the most effective pieces of retro style. These pants, which are very popular in men's clothing is increasing steadily in women's clothing in recent years.
Retro-inspired cargo pants are the biggest difference from vintage products; short and narrow legs and high waist. Thus, the trousers that keep up with the modern silhouette of today are preparing to go out on the streets with their coolest attitude.
You can wear your high-waist cargo pants with your turtleneck and high heels and get a stylish and sporty look. If you are looking for a more comfortable style, it is possible to look extremely cool by pairing your trousers with your army mailers and jackets.
Back to the 80s: Padded Jackets
It is possible to have a cooler and more effective style thanks to the padding.
The padding trend, carried from the 80s to the present, has been manifested in the form of tapering cuts and exaggerated shoulders for the last few seasons. Padding detail jackets revealing themselves with their voluminous silhouettes are an essential part of the season for a strong look.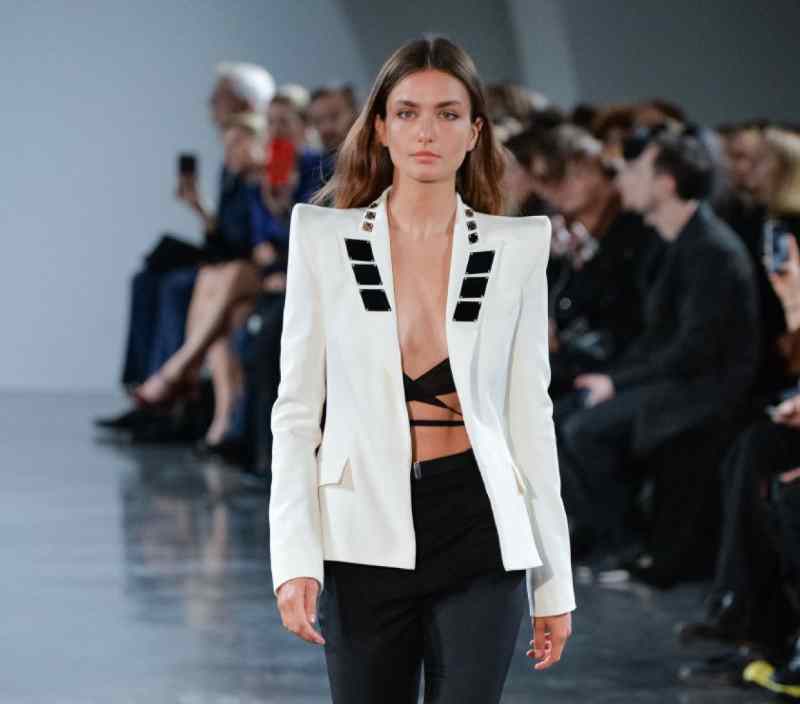 It is possible to have a cooler and more effective style thanks to the padding that can be easily adapted to many top clothing products. The exaggerated padding of the 80s has been replaced by retro style jackets and coats.
You can combine oversize blazer jackets with sharp lines and strong shoulders, stretch pants or skinny jean models with cowboy boots. Wearing a thick belt around the waist of your jacket is the perfect detail to double the retro effect!
Romantic and Feminine: Frills
The most romantic trend of the season, frills, is one of the highlights of 2020… Always renewing its place in the fashion scene, timeless forms of retro style is a must. Using the ruffle detail that is romantic and equally feminine is one of the shortest ways to look stylish and elegant.
Tops with frills on the arms and sides are perfect for looking elegant on special events. It is impossible not to look elegant with this combination of simple jean and accessories!
If you have a slim silhouette, you can often use the frills on clothes and skirts. The jackets, which are finished with ruffle detail at the bottom, are also ideal for those who want to add a romantic touch to their daily life and draw attention with its retro style.
You can bring your frilly denim jacket to a very balanced look with comfortable jeans and loafer shoes and successfully combine both masculine and feminine items.
Always Cool: Snake Skin
The boldest retro trend of 2020 is reflected in snakeskin printed pieces. It is possible to create an eye-catching style with snakeskin which is a very cool and feminine pattern. To avoid exaggeration while using this kind of pattern in your dress is the key to carry this style.
One-piece snakeskin dress or trench coat means you will have all eyes on special events! You can show off your feminine posture by completing your dress or trench coat with simple line stiletto and mini clutch.
If you find the snakeskin too ambitious, you can use this exaggerated style in small pieces and elegantly adapt the retro effect of the season to your style.
You can put your signature in a noble stance by combining your one-piece pencil dress with your stylish stiletto printed in snakeskin of blue or red tones. Or you can be the coolest person in any environment with your snake print shoulder bag.